Your wedding day is one of the most memorable days of your life. Designing Memories is dedicated to delivering fresh ideas, informative tips, and expert advice to couples as they plan one of the most important events in their lives. We hope you will be inspired by our blog and welcome you to contact our partner vendors!
Friday, December 27, 2013
Saturday, December 7, 2013
If you are attempting to decide
between the two most popular icing styles
this will give you some information so you can make
the best decision for your dream wedding cake!
Fondant
Description:
There are really three types of fondant; poured, sculpting, and rolled. Rolled and Sculpting Fondants are far more common at bakeries that bake wedding and special event cakes. Poured fondant is much more of a liquid so it is more commonly used as filling. Rolled Fondant (featured in the photos below) is created to be a more dough-like consistency which makes it easy to roll out in sheets in order to smoothly cover large or complete portions of a cake. Rolled Fondant's pliable nature also makes it easy to work with to create a draping effect and other soft cake decor pieces. Sculpting Fondant is meant to be rolled but become stiffer as it dries so that it will hold the shape the sculptor has created (decor on the cakes below contain sculpting fondant, gum paste, and sugar work).
Taste:
Rolled Fondant tastes a bit like a marshmallow peep but more firm in texture.
Sculpting Fondant has a marshmallow or sweet vanilla taste but has the texture of frozen Turkish Candy.
Poured Fondant is sort of like the creme part of a Cadbury Egg in taste and texture.
3 Pros:
~A wide variety of designs and sculptural details can be accomplished with Fondant. You can also have it painted with edible paint if you like the growing trend of the water color cake.
~Fondant will hold up (extreme cases aside) in just about any temperature/weather making it a couple hosting an outside wedding reception's friend. This also makes transportation of a Fondant cake easier.
~The super smooth texture is quite attractive if you want a flawless background for your cakes decor.
3 Cons:
~Fondant is not always a majority favorite because of older more traditional generations being a little unfamiliar with it and some people just simply don't like it.
~Tears can occur if the baker you choose uses too thin of a layer of Fondant.
~If you are looking for a specific color of Fondant other than white make sure you are hiring a top notch baker so there are no inconsistencies in the coloring.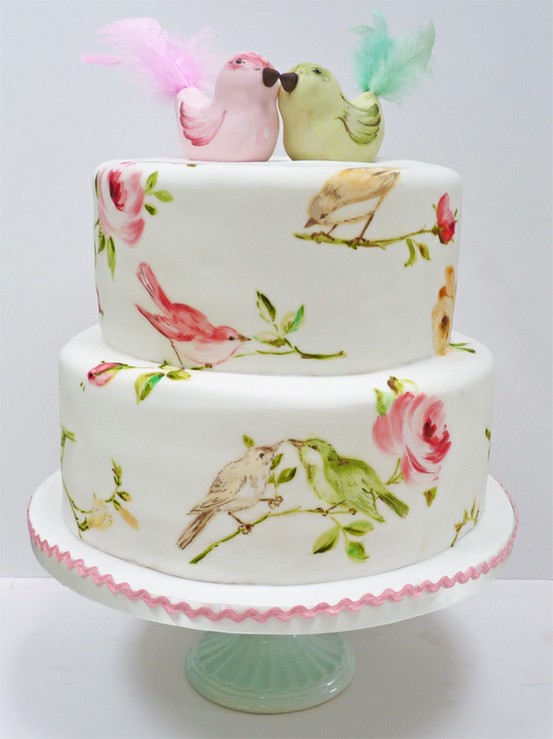 Buttercream
Description:
There are really two common types of Buttercream; Simple Buttercream and Cream Cheese Buttercream sculpting, and rolled. Simple Buttercream is made mainly with butter and powdered sugar while Cream Cheese Buttercream cuts down the sweetness by using more cream cheese. Both are applied artfully with a smooth knife and a steady hand.
Taste:
Simple Buttercream tastes just like the name suggests, a sweet buttery flavor with a soft texture.
Cream Cheese Buttercream typically has a similar taste and soft texture to simple buttercream but with less sweetness.
3 Pros:
~Buttercream is traditional and recognizable throughout the generations so it is often a crowd pleaser.
~Adding fresh flowers and iced piping designs are especially easy when using Buttercream as your icing.
~You can often control the level of sweetness Buttercream has by discussing your preferences with your baker so that they concoct the perfect icing for you.
3 Cons:
~Transportation of a Buttercream cake can be a bit tricky especially because it is a fluffy cream like surface with no protective outer shell.
~Melting or relaxing of the decor pieces that are attached to Buttercream can happen, so be sure to have it placed in a good location that is out of the heat and any other type of weather while it is on display.
~Buttercream needs to be spread onto a cake so it may not always be completely consistently smooth.
Need a Great Bakery Reference? Try One of These...
Candy and Confections
Christie's Memorable Cakes
Momma Millies Bakery
Sweet Addictions Bake Shop
Byer's Butterflake Bakery
Sublime Cupcakes
Piece a' Cake